I have been selling and buying on eBay since 1997. My eBay ID is garagesaler - you can see if I have any items up for sale this week and my feedback rating (100%!) by going by clicking on my eBay logo below: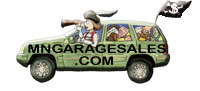 There are two kinds of service I offer to clients wanting to sell their items on eBay. First, I can sell your item for you on commmission. Second, I can assist sellers who want to sell their own items by creating auction templates, setting up eBay stores, and more!
1) SELLING ON COMMISSION
I offer very competitve rates for selling your items on commission on eBay. Below are the usual commission fees that I charge, but this is negotiable based on the value of your item(s).
AUCTION COMMISSION FEE SCHEDULE

Closing Auction Price
Commission
Base Fee (per item)
$10.00 + eBay listing fees (negotiable, depending on number and value of items)
$0 - $299
29% of the closing auction price
$300 - $999
29% of the first $299, plus 23% of the remaining closing auction price balance
over $999
29% of the first $299, plus 23% of the next $300 - $999, plus 17% of the remaining closing auction price balance
2) ASSISTING SELLERS - TOOLS FOR EBAY SELLERS
The second service I offer is one getting you set up to sell your own items on eBay. This is particularly helpful for new sellers who want to establish a presence and a good name in the eBay community. Types of services under this category would be:
Creating a personalized auction template that suits the type of items you plan to sell (e.g. childrens theme for someone selling mainly toys).
Education on eBay "best practices".
Setting up accounts for sellers on eBay or Paypal.
Setting up and/or maintaining an eBay store.
Any other type of auction assistance.
Fees for these services vary depending upon what is needed by the client. Base fee for eBay assistance that does NOT include selling items is $25 per hour.
Feel free to contact me at susan.kallsen@comcast.net if you have any questions.